Repairs of Fr. Foran's 1798 Monument well under way in 2016.
Repairs to the 1798 monument at the heart of Oulart Village are well underway and in the safe and steady hands of stone mason Páraic Doyle, Bunclody. The pikes were carefully restored by BronzeArt, Gaelic Street, Dublin. The monument was badly damaged accidentally several years ago and now with the help of Wexford County Council the monument will be returned to it's former glory in 2016.
We are hopeful that the official opening will be evening of April 7th including a night of trad music in the village.
We would especially like to thank Diarmuid Houston of Wexford County Council for his help and support in securing funding to repair this important monument which forms part of the national inventory of architectural heritage (15702119).
Work underway during a fine weather spell, February 2016.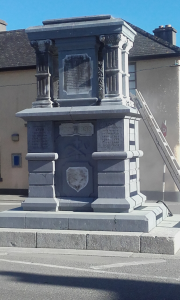 Work During March 2016
For some background to the momument listen to the podcast below from Brian Ó Cléirigh