Backroads to the Rising – Community Walking and Cycling Event, Easter Monday from Oulart Hill.
What a tremendous success this project was!
Report from An Screig – Easter Monday 2016
Yesterday was a wonderful day in Enniscorthy. The whole day of commemoration was a triumph for those who worked so hard to organise it. Here in Oulart we were involved in a small way in support of the Lar Redmond walk organised by Michael Fortune and Aileen Lambert under the name 'Backroads to the Rising'. Michael himself is a direct relative of Joe Quinsey who replaced Lar Redmond as Officer Commanding the Kilmuckridge Company of Volunteers.
It began for us on Oulart Hill at around 7.00 a.m. – thankfully a dry morning but biting cold at that hour. Soon you could hear cars coming along one after the other and by 7.30 there were some fifty people gathered to see John Dempsey raise the Tricolour. It looked so colourful in the cold of the morning – a new flag had been procured for the occasion, as it is absolutely important that flags be scrupulously clean and in perfect condition.
As the flag fluttered above, Pat Rath of Morriscastle, former Chairman of Wexford Local Development, gave a most profound and affecting reading of the Proclamation. Pat's family farm is next door to the farm where Volunteer Lar Redmond himself spent his life.
Video of Pat Rath on Oulart Hill reading the Proclamation
We very much appreciate Pat for being responding so positively to our request to him to read the Proclamation in honour of his neighbour. It was a beautiful moment of cooperation between parishes that can give a great strength to all sorts of project.
Then just after half past seven about forty five walkers set off in great cheer and good humour, with everyone helping everyone else and lending one another a pike, a flag, or other gear where there was a need. They were a marvellously joyous group really, and who better to develope such cameraderie than Declan Flanagan of Blackwater who led them all off on their happy way.
It was a wonderful way to commemorate the Rising and all credit to Michael Fortune and Aileen Lambert for their confidence in the community when many thought this would never work. Thank you for the leadership Michael and Aileen.
Why not do this every year? It's fun, it's healthy and it doesn't really have to start so early next year!! We think it's a good idea.
Advert
Calling everyone in Oulart and the Ballagh – Help spread the word and set the heather blazing!
What is it? A community walking/cycling event devised by artists Aileen Lambert and Michael Fortune inspired by the journeys undertaken by men and women from throughout County Wexford during the 1916 Easter Rising.
When? Easter Monday the 28th of March, 2016
For Who? For everyone! There are distances for all all abilities.
More details? See www.backroadstotherising.com or contact Aileen on 087 7552593 or Mick on 087 6470247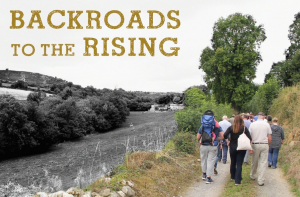 You are invited to join walkers on the Lar Redmond Route from Oulart to Enniscorthy as part of the Backroads to the Rising project, which will converge on Enniscorthy, Easter Monday, 28th of March, 2016. Alternatively you can join walkers at two points closer to town; at Ballymotey Beg Crossroads or Vinegar Hill. Cyclists will start the route on bike in Kilmuckridge.
Aileen Lambert and Michael Fortune have devised the project which is part of Wexford County Council's 2016 Commemoration Programme. Each route has been devised to suit cyclists and walkers of all ages and abilities. Individuals, community groups, walking clubs, sporting associations etc are all invited to participate.
The project is inspired by journeys which the men and women of Wexford undertook in 1916 and involves five walking and cycling routes that will converge in Enniscorthy as part of the 2016 Easter Rising Commemorations.
You can download a copy of the brochure from the project website www.backroadstotherising.com and hard copies are available from Wexford Libraries. For further information see www.backroadstotherising.com and "like' the facebook page to stay informed. For further information contact Aileen on 087 7552593 or Mick on 087 6470247